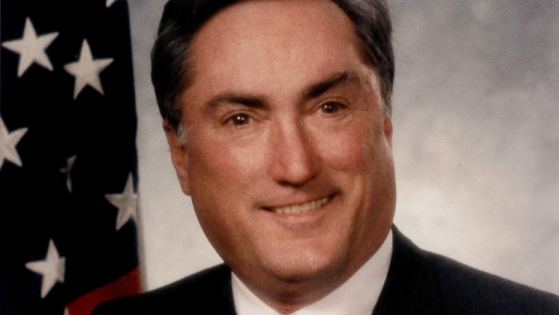 We are deeply saddened to announce that co-founder, President and CEO of DK Security, John Robert Kendall, passed away on Wednesday, April 28th, 2021. In his 78 years, he built a legacy that will shape DK Security and the larger security industry for years to come. A Memorial Service for John will take place on July 15, 2021 in Grand Rapids, MI. If you are interested in attending, please reach out directly to the Kendall family or fill out this form.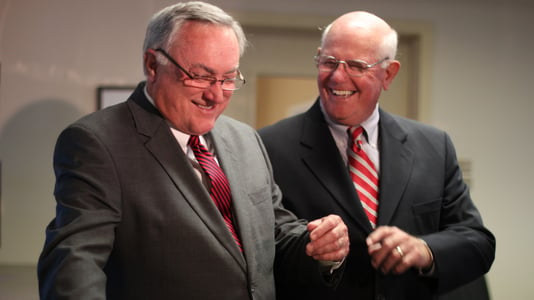 John Kendall alongside DK Security co-founder Bob DuHadway
June 1, 2021
---
John Kendall had a distinguished career in law enforcement that spanned 32 years. His career included 13 years as the United States Marshal for the Western District of Michigan, appointed by President Ronald Reagan. He received five outstanding and distinguished service awards from two United States presidents and three attorneys general. Before becoming United States Marshal, he served as Undersheriff of Grand Traverse County, Michigan, and Chief of Police of Harbor Springs, Michigan. Additionally, he was in the United States Air Force, serving his country during the Vietnam War.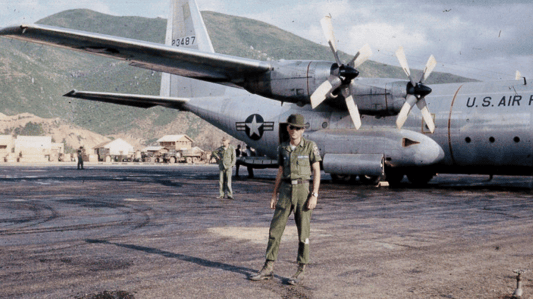 John Kendall in the United States Air Force, Vietnam War
When Joh
n and his business partner, the late Robert DuHadway, started offering investigations and security services in 1995, a clear goal was set: to provide security services of the highest quality to clients, backed by a highly responsive management team. A commitment to client service established a reputation of excellence for DK Security that persists today.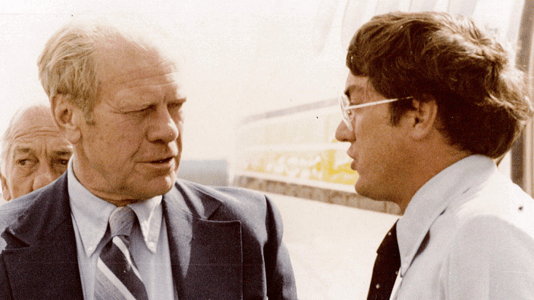 U.S. Marshal John Kendall with President Gerald R. Ford
Guided by John's visionary leadership, DK Security ranks among the top 50 largest security companies in the country, with branches in four Michigan cities. The company was recently named among Michigan's Top 25 Largest Veteran-Owned Businesses by Crain's Detroit Business Journal. Additionally, for the past two years, the Grand Rapids Business Journal listed John as a Top 200 Business Leader in West Michigan.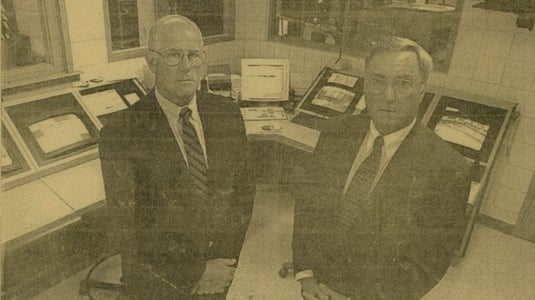 DK Security co-founders at Van Andel Arena (The Grand Rapids Press, 1997)
John is survived by his wife, Carri, his children, Kathryn and Johnny, and six grandchildren. Shortly after his passing, his daughter Kimberly also passed away following a short illness. It gives us great comfort to know that John was able to welcome his daughter into heaven. They are both sorely missed.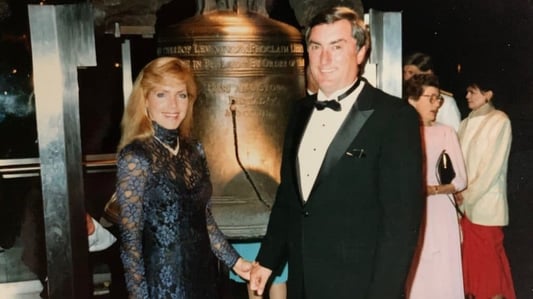 Carri Kendall alongside husband John Kendall
John Kendall was a man of deep faith, filled with a passion for family, friends, and DK Security. We are committed to upholding the values that he championed throughout his years of service. The DK Security family would not exist without him, and we are eternally grateful for his stewardship and Christian example.
Thank you, John. Thank you for everything.
---
GR PI: Ex-federal agents keep an eye on things (The Grand Rapids Press, 1997)
Featured in a 1997 edition of The Grand Rapids Press, John Kendall (pictured right) stands alongside co-founder Robert DuHadway (pictured left) in the security booth of the Van Andel Arena during the early days of DuHadway, Kendall & Associates, private investigation and security. Read the full original story below to enjoy excerpts of an interview with Mr. Kendall that describes his early vision and foreshadows what DK Security would become under his leadership.